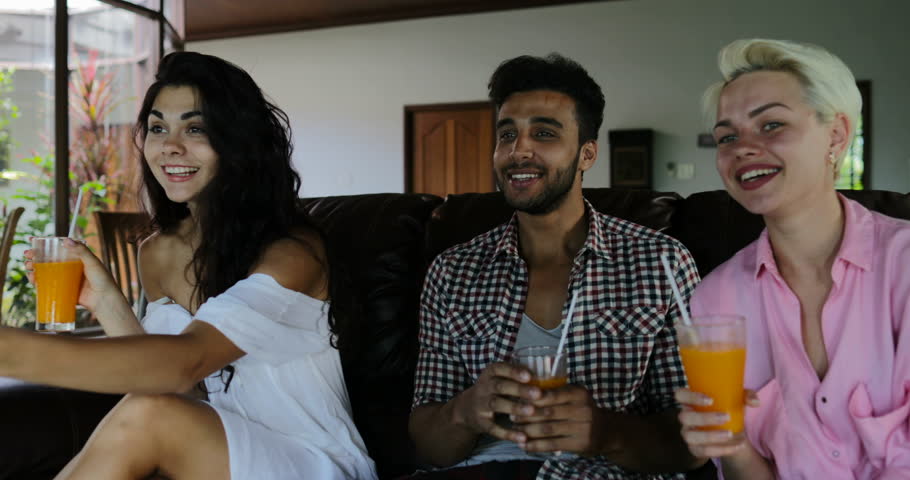 Tolu picked the bag of clothes on the table, the living room had clothes scattered all over. She wanted to speak to Eno about moving in. This house was certainly too big and pricey for her. Her rent would expire in a short while and it'd be wise to have a housemate- not just anyone, but her childhood buddy. Moreover, Eno's mum needed all the space she could get. She had noticed her former school teacher with some man at the mall the last time she went shopping and Ms. Clarissa had pulled her aside to ask her not to inform her daughter just yet. Hopefully, Eno would see enough reason to move in with her.
She adjusted the throw pillow on the sofa and rushed to open the door for her friend
"helloo you!" Tolu hugged her
"Hello to you too..." Eno smiled
"Now let's go cook" Tolu laughed
"Wait I just got here! Tee offer me a glass of water at least"
"Sweetheart, there's a dispenser by the dining table and a fridge in the kitchen, please help yourself"
"Yea, don't you just love your apartment?"
"It's a serviced apartment I paid heavily for, I should use everything they have to offer."
They burst into laughter together.
"I thought you were coming with Greg" Tolu asked
"Yes, he just stopped to get drinks. He'll be here any minute" Eno replied
"Really, how did he get your number?"
"He wanted you both to have a dinner date. More like I should be the cohesive force"
"Oh seen! I'm booked. I've got two dinner dates this weekend"
"Oh really, Jayson I guess?"
"Oh you two..." Tolu sighed
"He makes me really happy," Eno beamed
"Just be careful please; by the way I wanted to know if you'd like to move in with me. The rent expires in two months and I don't think I'll be able to afford this place without Folusho's input. I love the fact that the place came fully furnished; moving out would mean getting an empty place and furnishing all over again within my budget, plus I'd love to have my best friend around me."
"I was even thinking of getting a place myself. My mum spends more time out of the house these days and it feels like she needs her own space"
"Oh I see..." Tolu was not about to leak a secret
The doorbell interrupted them
"I'll get the door" Eno said
Eno opened the door for Gregory, "nice..." Gregory said almost in a whisper
"Oh I meant the house looks super good" he said stepping into the apartment
"Oh thanks," Tolu joined them
"Hello Tolu" Gregory said half hugging her
"Okay guys, I'm here…. And I'm super jealous. Gregory, please don't steal my friend" Eno laughed
"You big head come here," Gregory hugged her like she would vanish into thin air
"You two looks like lovers..." Tolu said. "I think you both should sit,"
"Tolu we need to tell Eno about what's been going on"
"Someone wants you dead, we've both been getting threat messages" Tolu replied
"What? When? How come no one told me about this?" Eno panicked
"We didn't want to scare you, I thought it would pass but it just kept going on"
"Can I see the messages?"
"Yes, there you go," Tolu passed her phone to Eno
"Christ! This is gruesome. How long has this been going on for?"
"Over 2 months now, actually, since you met Jayson and Odetola" Tolu replied
"I think I know why you've been overly protective." Eno pointed at Gregory
"I'm sorry I didn't let you in on this, I wanted to make it blow away… but it's becoming a cancer"
"I think Odetola is behind this, I mean, dude went as far as getting Tolu's number just to reach out to me. Plus he's very controlling. Isn't that how these serial killers or worse still obsessed lovers behave?"
"Relax babes, we don't know who it is yet." Tolu said
"I think I know who it is. He's done this before and I'm pretty sure he's about to do this again." Gregory filled in